Choosing a musical instrument for a child
Your child is growing and there is a question for determination of his music school. I can not discuss issues such as "the child wants or does not want to", "should be given to a music school or do not have to"-that's another matter. Let's say, this issue has been resolved and it remains only to choose a musical instrument for the child.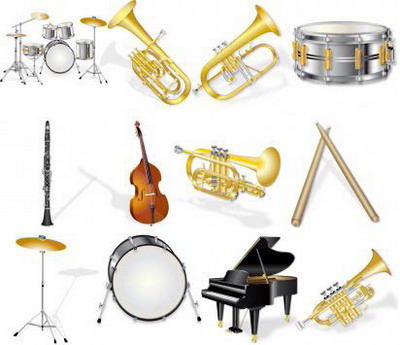 In music schools offer several training programs. The main base-seven year old. Tools such as the piano, violin, cello, flute, accordion, accordion and others often offer 7 years of study. For the initial acquisition domra, balalaika sometimes quite 5 years. It should be noted that many music schools conducted an experiment-they have implemented a 5-year course of study for all instruments. They are characterized by the quality of professionalism. If your child is enrolled for the overall development and does not intend to choose the profession of a musician, he is fine 5-year course. But when it detects bright musical abilities and severe craving for music-making, of course, to be preferred to a deeper 7-year program, after which graduates receive a certificate entitling him to go to music school.
So, we proceed to the review of musical instruments.
Domra and balalaika-stringed folk instruments. Good for both boys and girls. After learning the domra and balalaika much easier to learn guitar so beloved and sought after.
Guitar. As they say, no comment. For many decades, the guitar remains the most popular musical instrument among adolescents and young adults. Without the guitar can not do any camping; guitar sounds often in places where teens gather flocks; on student parties she-the queen. The ability to play the guitar is always a delight and a genuine interest. I should say that when training on this instrument is highly desirable in parallel to take singing lessons.
Accordion-luxurious and melodious folk instruments. Are large in size and weigh not so little. This tool should be examples and to understand whether this is your tool. If so, it is likely that the child will get a lot of pleasure from making the accordion or accordion. Suitable for both boys and girls. Well developed hearing. Personally, I know that Accordion perfectly improvise and pick up at the hearing.
Flute-elegant and gentle wind instrument, is more suitable for girls.
Trumpet, trombone and other brass instruments-a "boys'" tools. One important caveat-if a boy learning to play a wind instrument, especially the copper group, then upon reaching military age have a great chance to get into the military-musical regiment, but it is not that prestigious, but much easier. Your son will be in the service play "Slav" and all sorts of festive marches.
Violin, cello-these musical instruments are stringed and bow band orchestra. There is nothing that develops an ear for music, like learning the violin or cello. Very difficult instruments. Parents who have lost a child in these classes, you must know that at the beginning of training they make absolutely heart-rending creaking sounds that not every parent will be able to survive. But the more the child will develop the skill, the sweeter will be the melody. These are the tools of the intelligentsia-a very elegant and refined.
Piano. Also quite popular and popular musical instrument. Often, it is the piano department is competition, so the children were taken there after the preparatory class. Parents who want to see in a child pianist should already take care of this to achieve a toddler 5-6 years, otherwise it may be too late. Learning the piano is also a complex process. Parents need to be sure to take care of a tool, and it is often this becomes a problem: large size, the complexity, high cost,-all this can be an obstacle. Now there is an alternative piano-synthesizer. It is cheaper and takes up less space. However, these two instruments are not even worth comparing. This "living" piano out of competition. The key size, methods for extracting the sound, the size of the keyboard-these two instruments are different. If a child is engaged in the house on a synthesizer which can adversely affect the setting of hands, the development of fingers, and as a result, the baby learns to play on this piano (piano or piano) and may lose interest. Traditional acoustic piano-perfect. You can buy a digital piano-option. Synthesizers and percussion instruments is better to choose as an extra.
Music School-a school of life. It disciplines, organizes, not to mention the all-round development of the child. Parents somewhere should put pressure somewhere to persuade and be sure to keep the original interest. To finish the begun business-this is important. It is important that your child from infancy is realized.
Look at other articles at this section: