Armenian Dance «Kochari»
Armenian Dance «Kochari»
Plots of folk dances were born thousands of years ago, when people have the words were few, and cases-a lot. Armenian Dance "Kochari" which in translation-"a brave man", was originally a martial dance. Movements based on the military and hunting experience, is for men not only textbooks, but also the ritual behavior of each of the conspiracy in the upcoming bloody event.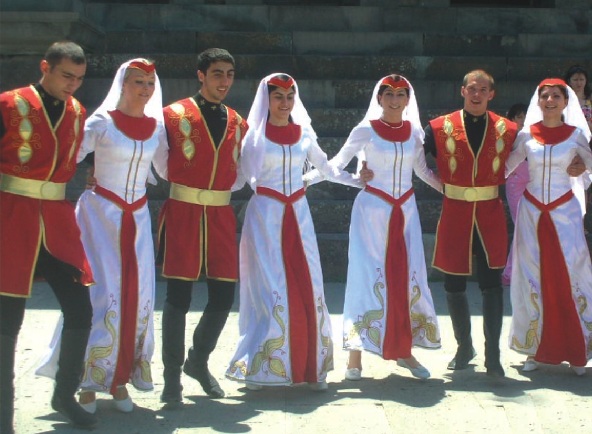 In peacetime, "Kochari"-pastoral dance that simulates jumping sheep and goats on the cliff tops. Repeating the movement of animals, men unraveling the habits of the beast, not giving him the opportunity to escape persecution or to deceive. Particularly pronounced imitation of movements in rapid thrusts forward in shifts all the way back, as it were, to the extent and in the sudden straightening of the knee after a lunge, with a slope of the torso forward as if to "butt" opponent. And steps priplyasom turning into dynamic jumping with twists depict animals jump.
Kochari consisting of slow and fast parts, has three options. Men or women line up in two groups, or through one, the leader of the dance ("yallybashi") is holding a cane in his hand. Artists hold hands or put his hands on each other's shoulders and dance cloistered next round. At a sign from the leader (cane or cry) is a change of shape. Musical size 2/4 4/4 8/4.
A well-known performer of dance in Azerbaijan and in other countries was an amateur ensemble "Chinar", which played Kochari along with other yalli (tenzere, Tello, Lolo, the caliph). Yala (with azerb.-Yallı)-Azerbaijan's national dance, one of the most popular round dance collective rural dances. Different types of dance are considered yalli kochari, uchayag, Tello and galadangalaya.
History is full of suffering Armenians and tragedies. They are scattered around the world, but in its national dance "Kochari" always emphasize the indissoluble link feet of dancers with their native land. All of the dancers, their arms around each other's waists, bring it to the end of a monolithic group, thus embodying the unity and unbroken spirit.
The dance is mentioned in verse known Azerbaijani poetess Sona Veliyeva "Bir havasyz hava chalyn":

"Play kochari, I kochuyu,
From their edges on all four sides.
Bend it into another world I'm leaving,
The station, the station itself. "
Look at other articles at this section: